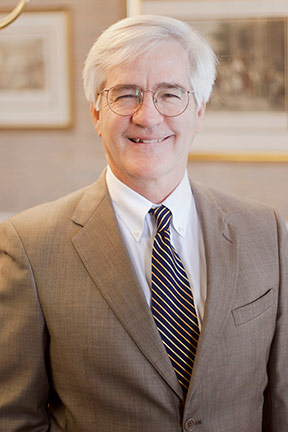 William F. "Bick" Halligan, Of Counsel
Retired
Education
Davidson College, B.A., Political Science (1973)
University of South Carolina School of Law, J.D. (1977)
Professional Information
Bick was admitted to the South Carolina Bar in 1977. Before joining Childs & Halligan in 1994, he was a partner in the Columbia-based law firm of Robinson, McFadden & Moore.
From 1986-1994, Bick was a member of the Board of School Commissioners of Richland County School District One. He also served as chairman of the South Carolina Chapter 2 Advisory Committee, commissioner on the South Carolina Advisory Commission on Intergovernmental Relations, member of the Federal Relations Network of the NSBA, and reader for the National Education Goals Panel's Handbook for Local Goals Reports (Spring 1992). Bick serves on the board of Presbyterian Communities of South Carolina. Bick is also a member of the NSBA Council of School Attorneys and the South Carolina Council of School Attorneys. He is admitted to practice before the state and federal courts of South Carolina.
Practice Areas
Bick works with school boards in all areas, including contractual issues, employment and evaluation of superintendents, parliamentary procedure, and intra-board and board-superintendent conflict. He works especially in the areas of procurement, school construction, budget, taxation, charter schools, and school district-county government issues such as fiscal autonomy and property taxes. He has been deeply involved in advising school districts on the effect of economic development legislation on school district finance and taxation, including tax increment financing by cities and counties, multi-county industrial and business parks, and fees in lieu of taxes. Bick has worked extensively with school business officials to develop the comprehensive education finance reform proposal known as SCJET.
Personal Background
Bick is a graduate of Spartanburg School District Seven Schools. He is married and has three children, who graduated from schools in Richland County School District One. His wife is a semi-retired educational audiologist. They have six grandchildren.